Insurance Regulatory Consultants, LLC (IRC) turns 25 years old this month! To commemorate this milestone, we are taking a look back at our company history and celebrating how far we've come.Through success, hardship and change, it's been the journey of a lifetime! 
The Beginning
IRC began in New York City and we remain, to this day, deeply rooted in the culture of the city. IRC was founded by John Battles and Kevin Purcell who, at the time, were working together at Risk Enterprise Management (REM). They were overseeing the business of The Home Insurance Company, which had been placed into "run-off". 
In the summer of 1997, John and Kevin left REM and moved across the street to start IRC at 55 John Street. IRC quickly grew and John's wife Rose was added to the team in 1999 and his son Jeremy in 2001. The addition of Rose and Jeremy added a familial and generational element to the company that remains a unique part of IRC's culture. A family owned and operated business in the heart of New York City's Financial District. 
Hardship Strikes
Like so many New York City-based companies, just as IRC was hitting its stride, we were faced with the tragic events of 9/11. No part of life or business in New York City was untouched by the impact of that day.
The IRC office was just blocks away from Ground Zero, and on that infamous September morning, IRC evacuated the exact moment Tower 2 collapsed and engulfed John Street in dust. As the heartbroken nation navigated the shock and pain of the events, many companies, including IRC, had to figure out a new normal to survive this tumultuous time of uncertainty and fear.
And IRC did just that—we got scrappy. IRC's telephone and internet lines were destroyed during the attack (they ran from the Verizon building that was next door to 1 WTC) and staff had to get very creative to complete even the simplest of tasks, like sending an email or making a phone call.
Navigating communication and internet access for the next six months was difficult, to say the least. In addition, the insurance industry paused and most business dried up. As a result, more than half of the IRC staff was laid off. These were the most challenging and darkest times in IRC's history. 
There was light at the end of this tunnel though and business started to return in 2002. This resilience to endure and continue to build through such unprecedented territory really showed that IRC was made of long-lasting material—and it would prove useful in the future.
A New Era
In 2002 IRC moved further south in Lower Manhattan to 50 Broad Street, where it would stay for the next 10 years. At 50 Broad, we continued to lay down our roots, grow our business and plan for IRC's next stage of development.
John and Rose moved to Sarasota, Florida and opened IRC's second office. Jeremy became a partner and Jason Graciolett, Kelly Gunning, and Fong Li were all added to the IRC team. 
Firmly established in our 50 Broad home, a work culture and sense of camaraderie grew during this time; nurtured by quarterly luncheons (an IRC staple throughout its 25 years) and Friday lunches on Stone Street in the summer. 
These types of traditions added to what make IRC such a special place to work.
Overcoming Challenges
In 2012, the company faced another unique challenge when Hurricane Sandy flooded Lower Manhattan, closing the Broad Street office for weeks. IRC mobilized and flew some of the NYC staff to the Sarasota office while the majority of the staff set up a temporary office in a Brooklyn apartment—a WeWork predecessor of sorts—owned by Jeremy's cousin and her husband, Tom Johnson (remember that name!).
Pivoting in a New Direction
In 2013, IRC left Lower Manhattan after 15 years and moved to W 29th Street. The firm continued to grow during these years and at the end of 2017, John and Rose Battles retired. They continued to assist with some day-to-day operations, but took a step back for some much deserved downtime after 20 years with IRC .
The next year, a new exciting venture for IRC began. Jeremy Battles met up with Tom Johnson at Walter's, a bar in Fort Greene, Brooklyn, and pitched the idea of FilingRamp, a web application that would be connected to SERFF. As Jeremy and Tom grew FilingRamp into a stand-alone software company, the software has become an increasing focal point of IRC's filing services.
FilingRamp has not only taken IRC in new directions, but is breaking ground in the industry and modernizing the filings process across the board.
Moving Through Changes and the Next Chapter
To add to the list of hard times to overcome (something seems to be thrown at us every ten years or so), COVID-19 presented a challenge in March 2020 – as it did for everyone! We had our last day in the office at the beginning of the pandemic and then never returned to W 29th street – except to move out! We transitioned to a Jersey City hybrid office and settled into the new normal of staff working from home and in the office. By the summer of 2021 we were able to have our first IRC luncheon back on Stone Street. It was the first time much of the team had seen one another since pre-pandemic, and the reunion was a welcome return to normalcy.
2021 wasn't without its own set of changes though, some exciting and others bittersweet. In 2021, Kevin Purcell retired after 24 years with IRC. In addition, John Battles came out of retirement to work with Fong Li and establish IRC's Policy Raters service, which has become an increasingly popular offering from IRC.
Always seeking new ways to serve our clients, in the fall of 2021, IRC and Verisk announced a collaboration to provide solutions to insurers to enhance operations, develop custom products and comply with state regulations. Check out more about that exciting development here. 
To 25 More
As we blow out our metaphorical candles and take a look back, we appreciate all the "wishes" that have come true in our business throughout the years. But, it's just the beginning! We are proud we have built a company with a foundation to thrive and endure in the toughest of times, proving again and again our resilience and support for our customers and dedication to providing the insurance industry.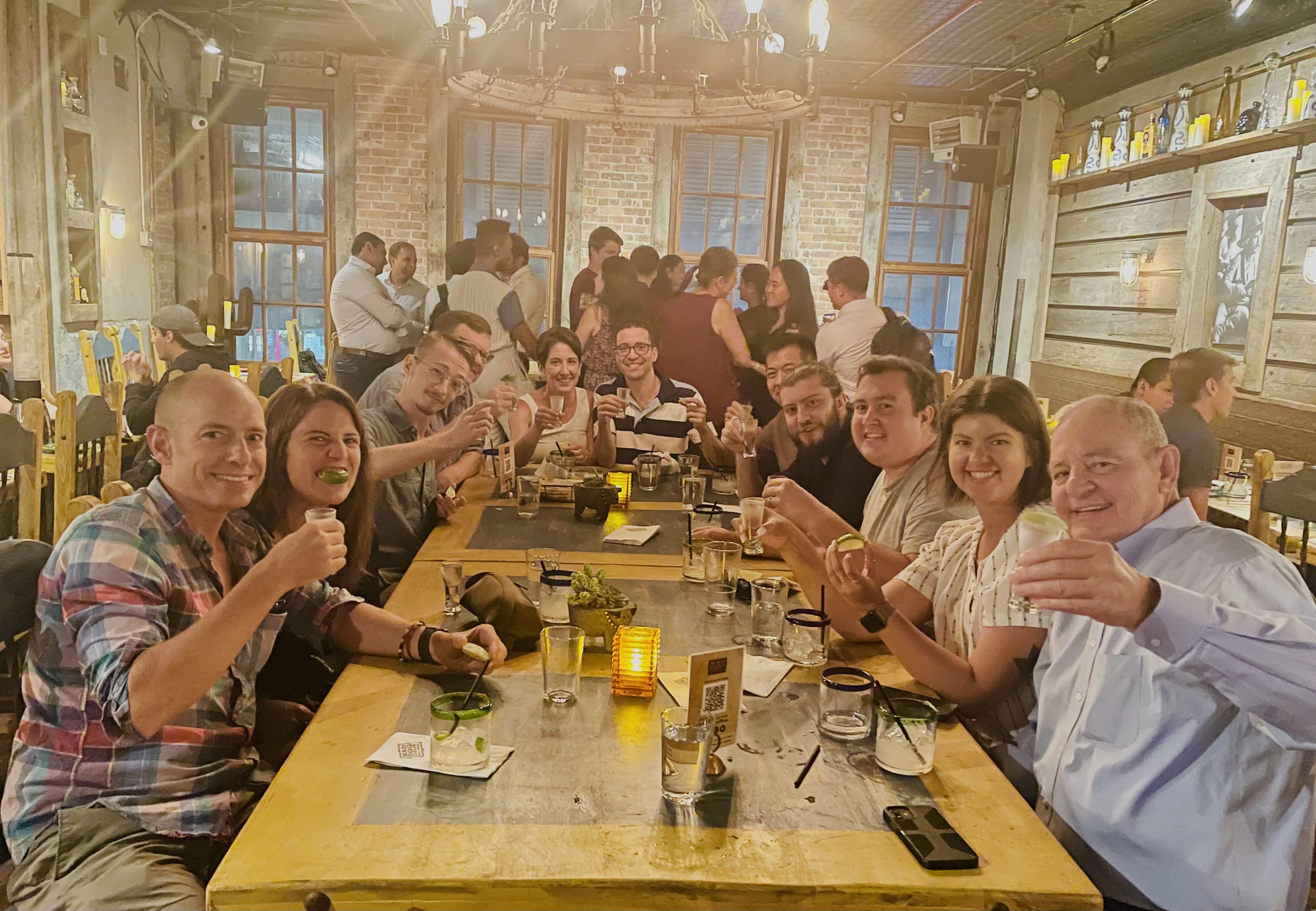 We also appreciate our dedicated team, without whom we could not have accomplished all we have. We have exciting things in the works as we continue to expand and evolve into other opportunities and products and want to thank all our loyal customers and the wonderful people who have walked through our doors over the years. Their hard work and support have been integral in helping us reach these successes and this 25 year milestone. It's the people that build a company and we couldn't have weathered so many storms without them.
Thank you all!
To the next 25!